The Dewey Gunner-A NEW Remote controlled retiring and un-retiring Gunner
Review by Dennis R. Voigt
Those of us that do a lot of training retrievers alone are able to do realistic set-ups even for very advanced dogs using remote-controlled wingers. Popular models are made by Zinger-Winger, Gunners Up and Slinger. Field trialers also need a way for gunners to retire. This article discusses that issue and reviews a brand new device on the market -The Dewey Gunner.
Wingers that launch birds have become common place among retriever trainers. It is possible with them to set-up a realistic hunt test scenario or an advanced field trial set-up. In the latter case, white "stickmen" are usually used. There are various types of "stickman" gunners available commercially but many trainers also make their own. It's not long before most trainers want to be able to retire their "gunners". There are several devices that can be used. The simplest that I have used is to put a white shirt on a wire clothes hanger; straighten out the hook and feed under a launcher pulley. When launched, the white shirt and hanger fall to the ground. This can be a bit tricky to get right so it doesn't jam or give way prematurely. At least 3 companies make a device ( a trigger on a pole) that when signaled with a remote control transmitter, such as those made by Garmin or Dogtra, drop a white shirt on a clothes hanger. In the above examples, you can not un-retire the gunner remotely.
I can think of several situations where I want a retired gunner to be able to un-retire. 1. Training young dogs especially youngsters when you find you need to help the dog. Some remote control receivers, such as the Garmin that I use even have a very realistic "Hey Hey Hey"! audio option to help after the gunner is un-retired. 2. When teaching retireds, it is often necessary to un-retire a gunner for a brief glimpse after you have tried to get the dog to remember the retired memory mark. It is valuable to pop the gunner up and down. 3. When doing a single first from a multiple marking set-up, if that first bird is shorter than a longer retired, I want the long bird retired. I don't want to inadvertently teach the dog to not look for, look at and watch the long gun. 4. In some training set-ups, I want a short retired gunner. Then, when doing a longer memory mark past that shorter mark, I like to practice the drive past a the visible now un-retired gunner. 5. When re-loading launchers with a bird, I don't have to re-set the retiring gunner; it is ready to go retired or not whenever I want. 6. For some of you that train with a mixed field trial and hunt test group, the ability to have the stickman gunner up or down is valuable for each dog. I should note that I am a firm believer that hunt test folks should do much white coating marking to improve marking mechanics and "destination/go straight" marking.
Historically, there have been few devices that allowed a stickman gunner to un-retire. Some make the gunner flop over and basically lay down behind a holding blind. One that I have used extensively, the Malcolm (previously manufactured by CPH Sales) did allow a stickman gunner to retire and un-retire vertically behind a holding blind. With careful maintenance and proper battery management, that device worked well but there are no longer available. All of these considerations led a trainer from Pennsylvania, Duane Ray, to research and develop a new retiring and un-retiring remote controlled gunner. It is called the Dewey Gunner and was released in July 2019 and marketed by Lou Magee of Magee Products (www.mageeproducts.com). Many of you will be familiar with Magee products as they are well-known for their quality material and construction. The Dewey has some components such as the stickman and holding blind manufactured by Magee so it is a good collaboration. The Dewey was named in honor of Duane's father's nickname and you can read the whole story in an article provided with your purchase or on the Dewey gunner Face Book page: https://www.facebook.com/DeweyRetiringGunner/
I consulted with Duane re the features and progress of the Dewey for some time before receiving a unit in early June. I have been using it for the past month and I am very impressed. Extensive engineering is evident the minute you see it. Components are quality material and well-made. Included in the package is the Dewey Gunner mechanism, the stand-out gunner (stickman), a folding holding blind to retire behind, a heavy duty folding stake, a NIMH rechargeable battery and a NiMH charger, a 6 foot lead to connect to a remote controlled receiver on your launcher (or you can use a receiver on the Dewey itself. The whole package comes in a hard shell gun case by Plano. The complete package in the case weighs 23.5 pounds.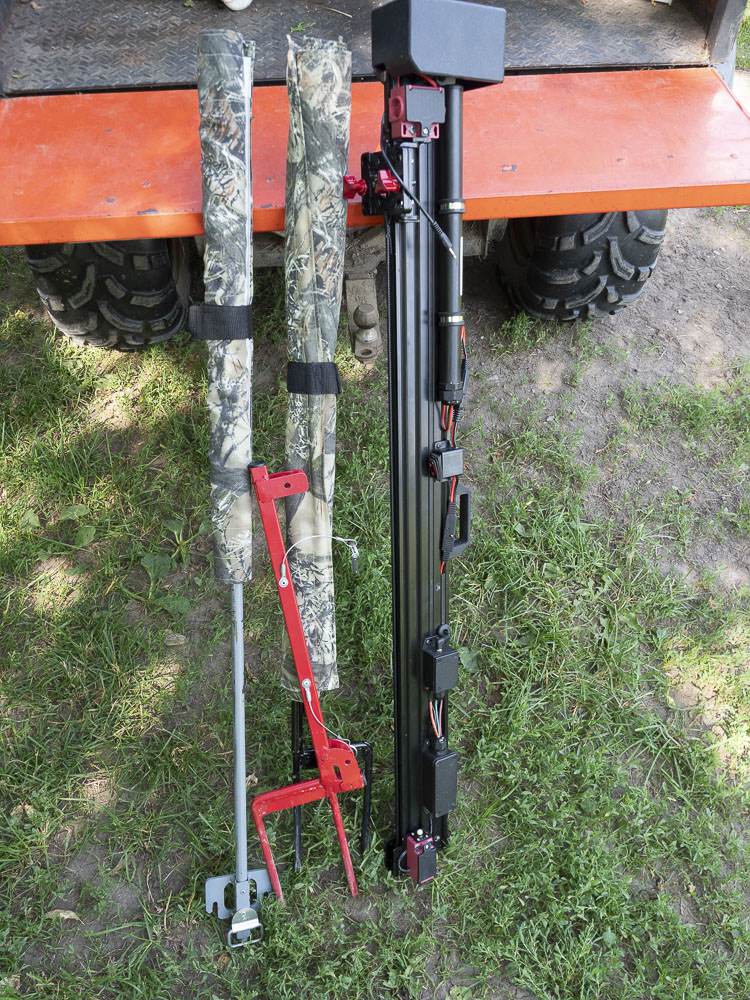 The 4 components of the Dewey Gunner: The Standout Stickman, the base stand for the Dewey, the holding blind and the Dewey mechanism.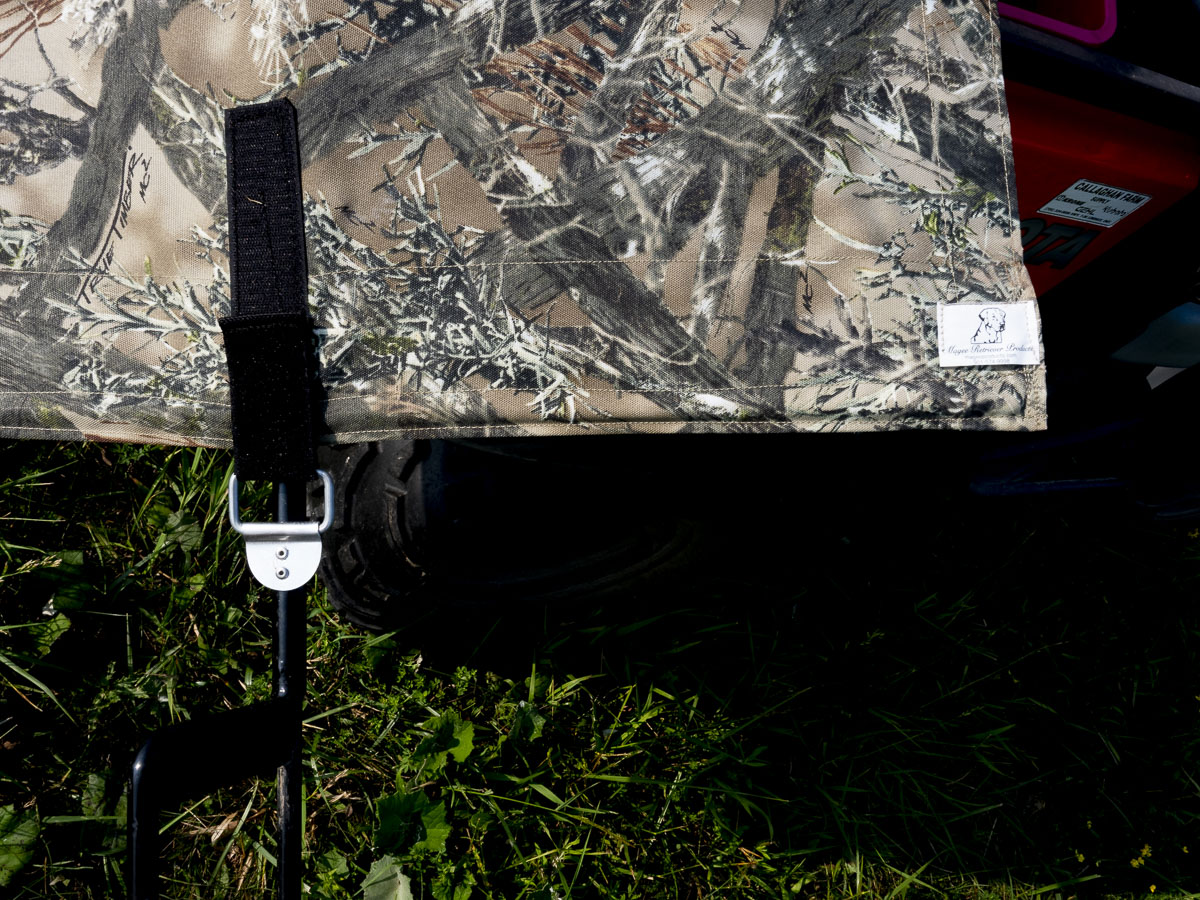 The holding blind, support stakes, Stickman and Dew-Man are made by Magee Retriever Products and show the typical high quality construction.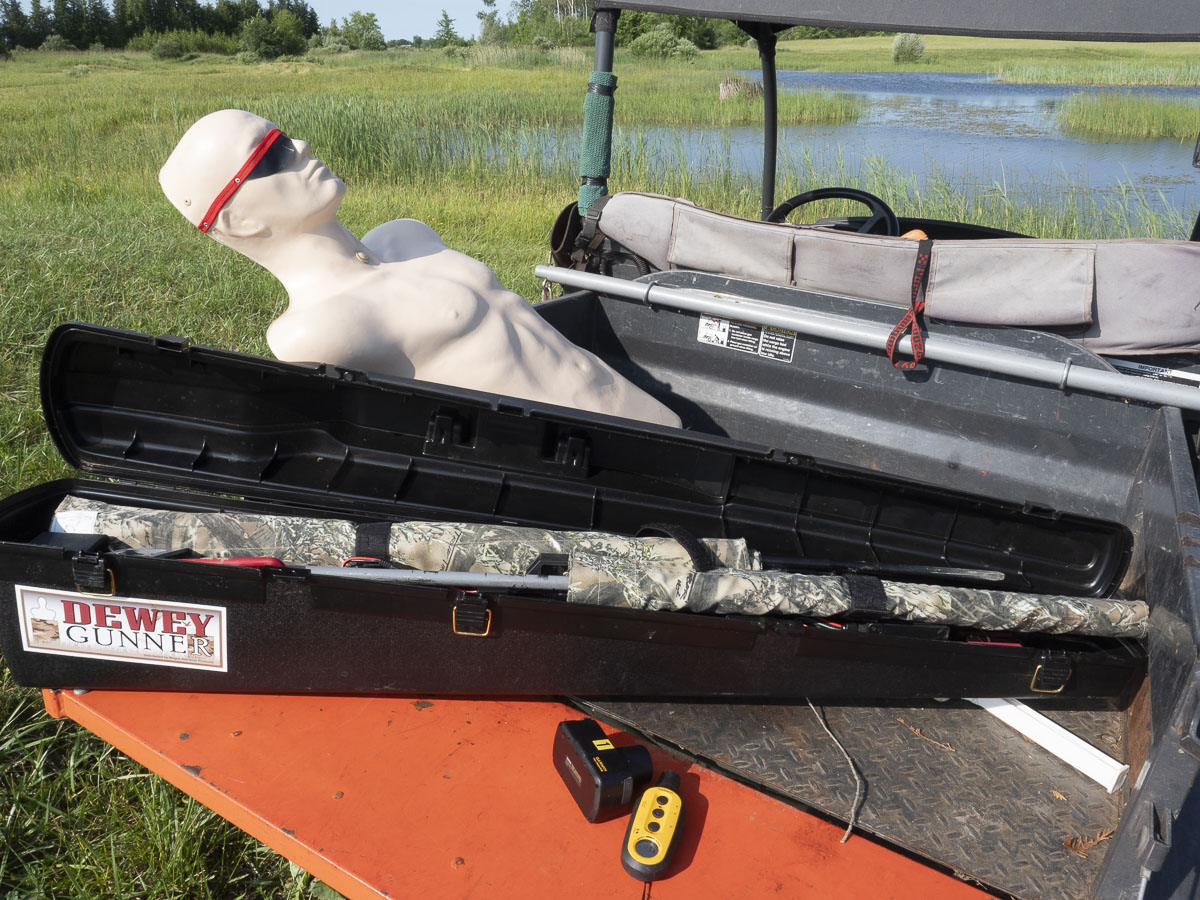 The complete Dewey Gunner packs into a supplied Plano hard case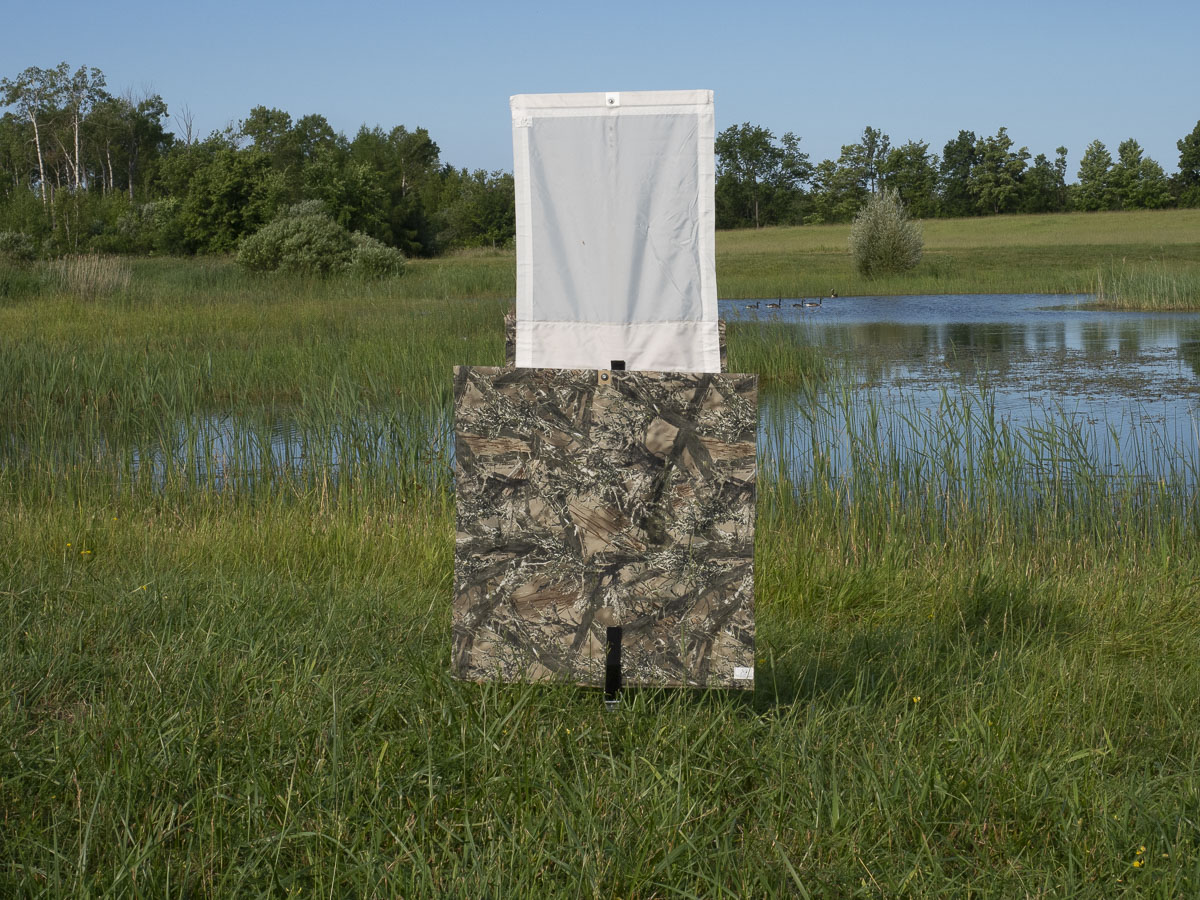 The Dewey Gunner with the Stand Out Gunner and holding blind in the un-retired position
An excellent option is the "Dew Man". This features the custom Tac-Man mannequin from Magee Retriever Products. It is modified to work with the Dewey Gunner instead of the Stand Out Gunner. The Dew-Man is an awesome realistic gunner. This guy is a cool dude and comes with a custom fit white jacket, black hat, and even sunglasses. Stand 40 yards away and you'll think you can carry on a conversation with the Dew-Man. It is the Magee Tac-Man modified for the Dewey.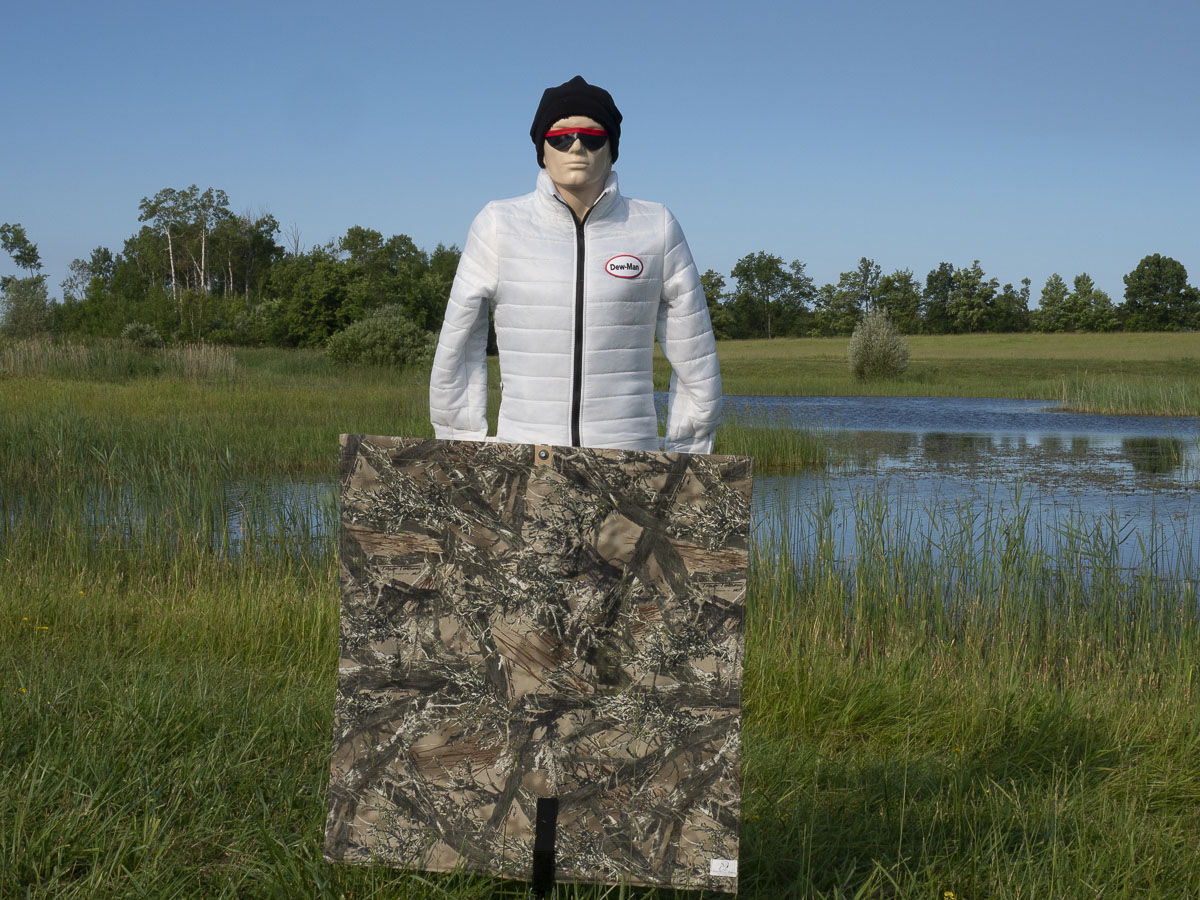 The Dew-Man is a realistic mannequin option designed to work with your Dewey Gunner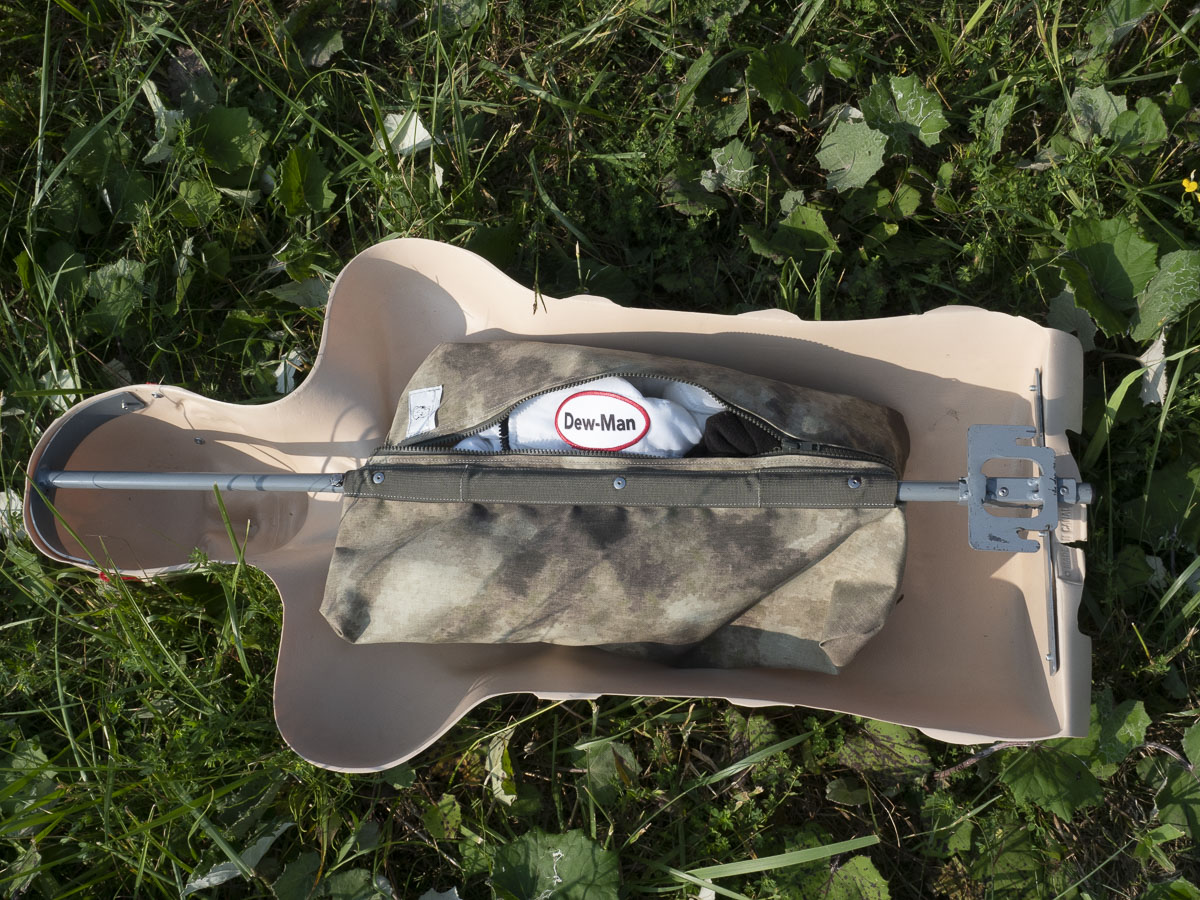 The Dew-Man custom jacket and hat pack into a bag on the reverse.
The core of the system is Dewey Gunner mechanism. This device use a strong fiberglass reinforced belt to move the gunner up and down. There is an on/off switch and a SAE plug from the the switch to the battery tube SAE plug. The 12v NiMH battery is charged by a supplied multi-current, universal, fast and smart charger. It shows red when charging and green when fully charged. It has an auto cut-off and safety time-out; a nice feature since I have fried a few old Malcolm batteries! Fast charging is often just over an hour and slow charging just over 3 hours. I didn't test how many up and downs can be done before the need to re-charge charging but the developer tested 150 continuous up and downs with only the slightest decline in speed. I have not used mine for extensive ups and downs but after a month of use I have not charged and it is still operating fine. It is recommended to charge every 2 months.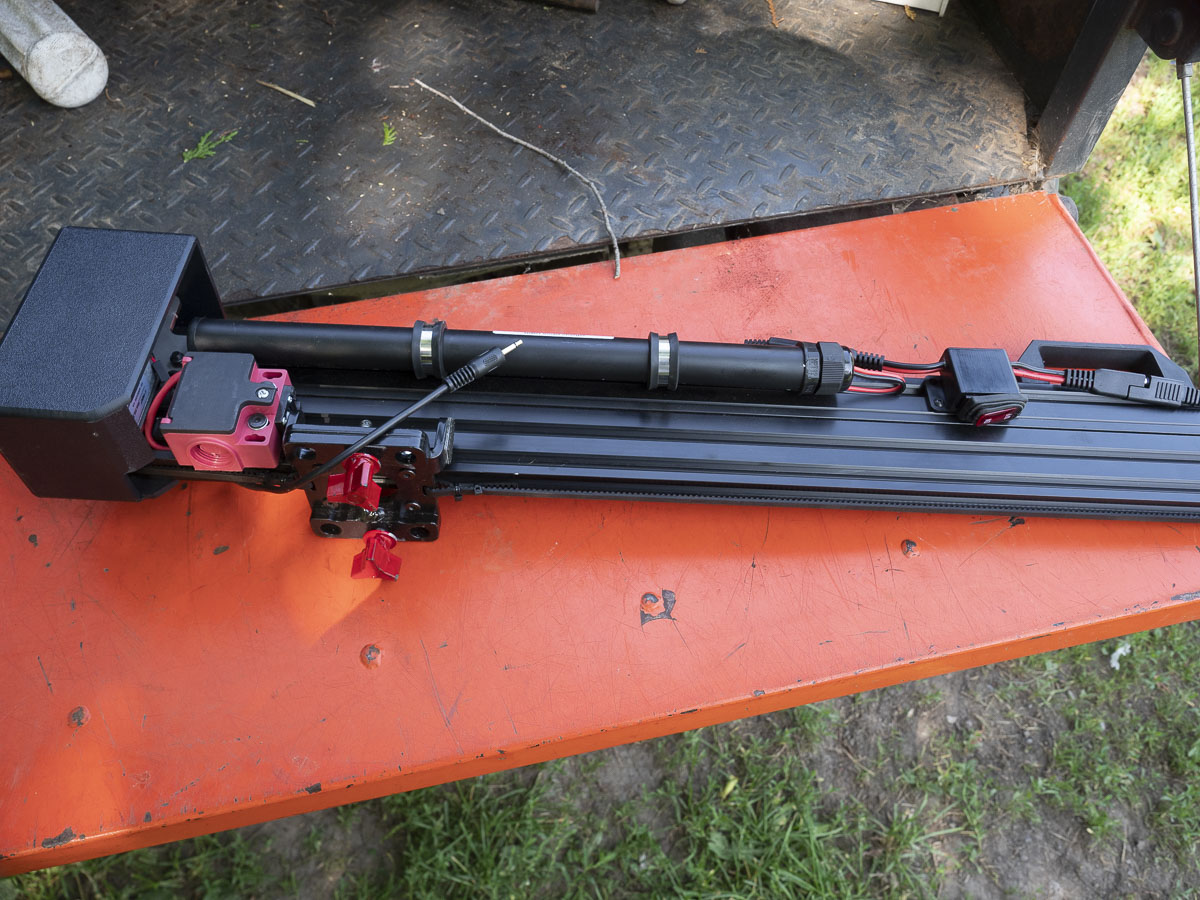 Excellent engineering and construction are obvious in the Dewey mechanism.
The Stickman or the Dew-Man are attached to the Dewey mechanism securely by hand with two knobs after the Dewey itself is first attached to a pole that has a strong stake; it can be pounded with a hammer mallet in hard ground if required. It is the same foot a used on the Magee holding blinds and stickman. I did not encounter gale force winds while using Dewey, but some days were windy enough to blow over my shirt dropping devices and a remote launcher with a stick man on it. I think it is much more secure than the folding type of retiring gunners.
You can watch the Dewey Gunner with the Standout Stickman gunner in operation here.
To see the Dewey Gunner with the Dew-Man option in operation click here.
I usually used my Dewey with the 6 foot extension cord (supplied) connected to a single receiver mounted on my Zinger Winger. I set the launcher on a L (left) number and the Dewey on a R (right for retired) number. The Garmin Pro Control units have a handy bracket to clip the receivers on. I attached one of these brackets to the Dewey so that I could use a receiver on the Dewey when I was using it alone as a stickman. The Dewy also comes with a Velcro patch for those of you that use Velcro on your receivers.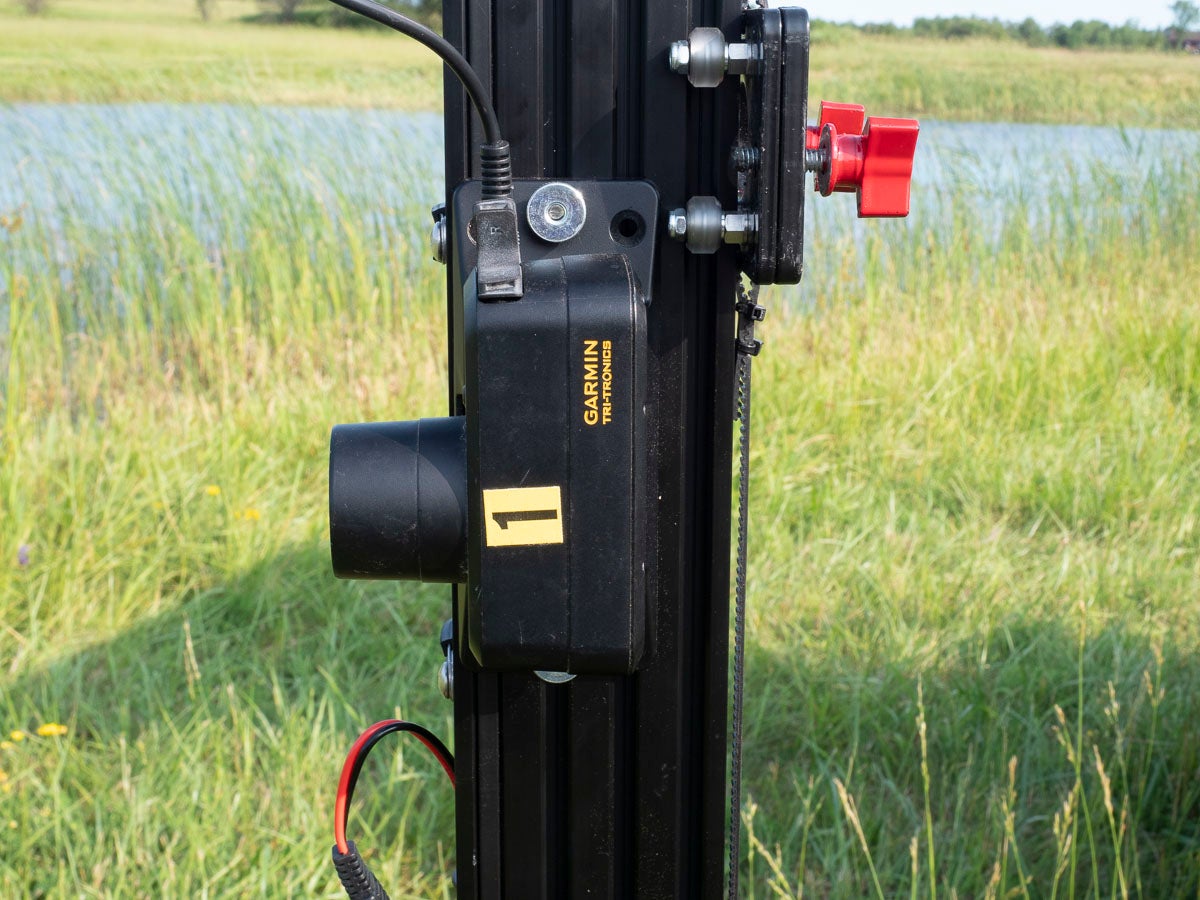 A remote controlled receiver can be attached to the Dewey or you can use the supplies 6 ' extension to a receiver on a launcher.
Why would I want to use alone? First it avoids the use of the cord which is another item that could fail, get lost, interfere or not get connected. Secondly, it means I can use the stick man or Dew-Man as a stand alone device without a launcher. Having some Scottish blood I am always looking for ways to get double-duty out of all my equipment. It occurred to me that having that excellent Dew-Man or that Standout Stickman Gunner I should be able to use them in every day training. For example, when doing drills or Training Alone Walk Around or Walk Back marks, I can have stick man in the field much like the well- known Magee stickman. To test, I rigged up some makeshift stakes and attached the stick man to one and the Dew-Man to another. Lou Magee is offering folding stakes that accommodate the Stick man and Dew-Man devices to the same type of bracket as on the Dewey Gunner. I even converted the Dewey holding blind into a stickman. Normally, it is a camo pattern that is quite universal but is nonetheless visible. I like that for my young dogs: to be able to ID and associate a retired gun holder blind with the general bird location. Later, I like to have it better hidden with a grass mat or brush. That is easy to do with the Dewey holding blind. But, what I did was cut a piece of white material and clip it to the holding blind. I now had three stickmen I could use whenever I wasn't using the Dewy Gunner. That's a triple-duty benefit for me that I like.
The Dewy Gunner comes with instructions but I always try when reviewing an item to setup and use the new device without reading the instructions. I always want to know how intuitive setup is. I can tell you that there were no problems. Repacking into the case took a little more effort as it's a tight fit with only a couple of options. However, I do recommend that you read all the instructions for tips, safety and precaution warnings.
In conclusion , I give the Dewey Gunner 5 stars for design, construction and operation. Because of the folding components, it is quite compact, especially without the Dew-Man. It requires a bit of set-up and take down pack away time; to move to another location it requires at least partial disassembly. It stores securely in a package just over 20 pounds. For those like myself (I train almost exclusively alone all summer), a retiring and un-retiring device is an important need for my field trial training. It is a worthwhile investment for the serious trainer when you depreciate the cost for a few years and weigh improved training capability against your entry fees and other expenses that didn't give a return!
The Dewey Gunner is selling for $835USD. The optional Dew-Man is $145USD. Shipping and handling varies from about $50-75USD depending on where you are and if a rural address.
You can order from Magee Retriever Products at www.mageeproducts.com.
Further information is available by emailing info@deweygunner.com
Back to Top